Out Now:
Sempervivums for Enthusiasts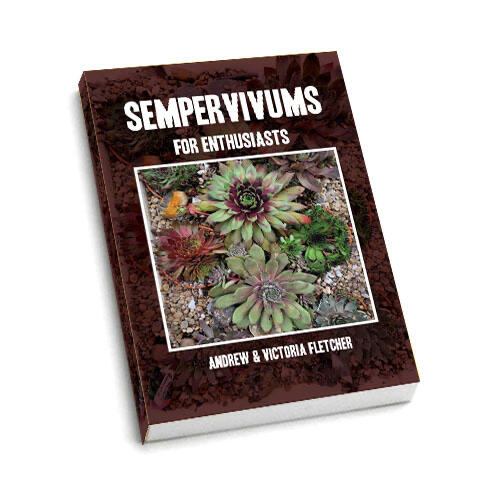 Hello and welcome to my website.I'm V J Fletcher and my brand new book Sempervivums for Enthusiasts is out now. If you have ever thought you were 'no good at growing things', Sempervivums may be the perfect plant for you!You can read more about it here.And you can order a paperback copy directly from this site.
Sign up below for publication updates and other news
Sempervivums for Enthusiasts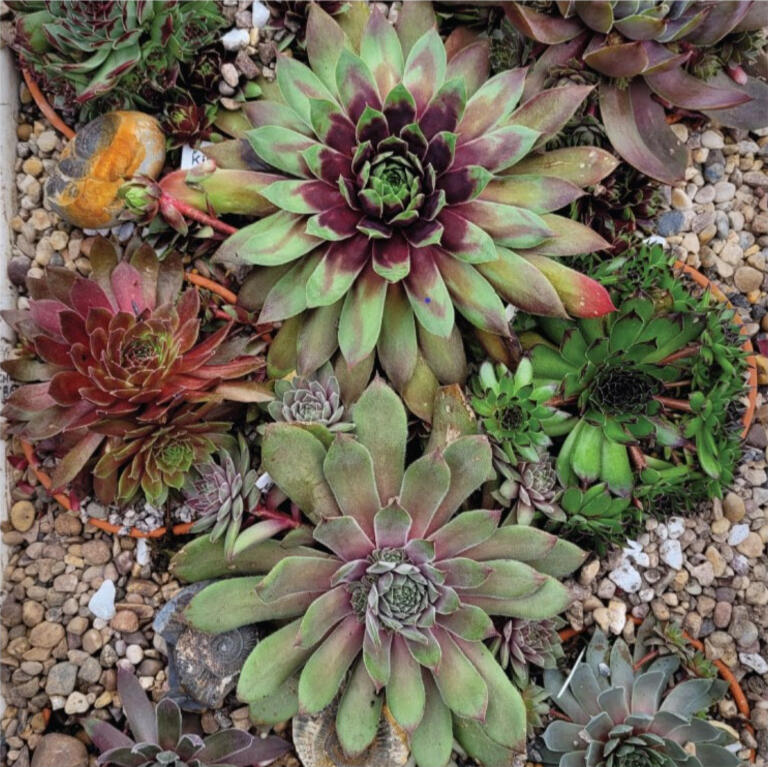 Everything you ever wanted to know about Sempervivums
About
V J Fletcher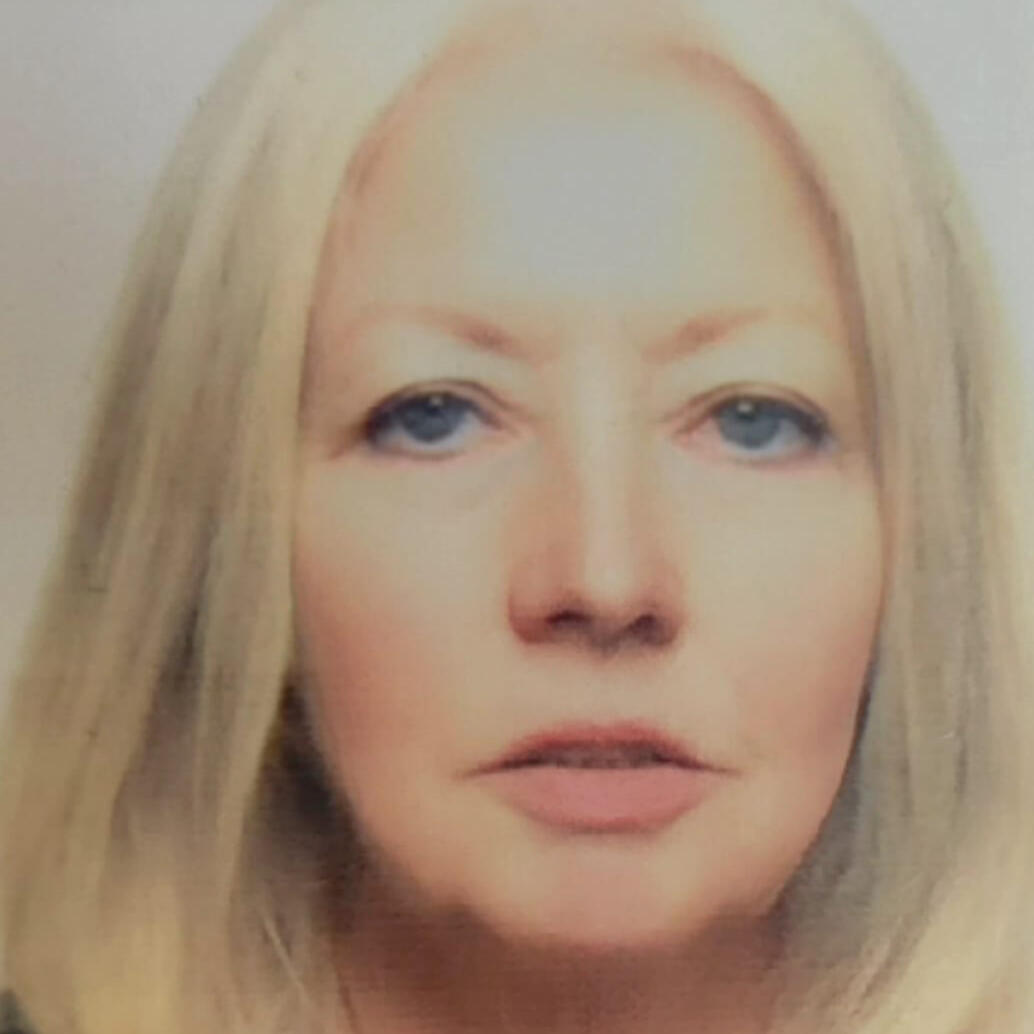 Find out a little bit more about the author V J Fletcher
Buy
the Book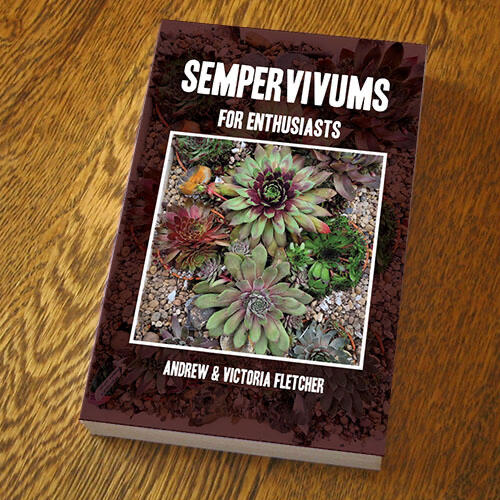 Order your copy of Sempervivums for Enthusiasts
Sempervivums for Enthusiasts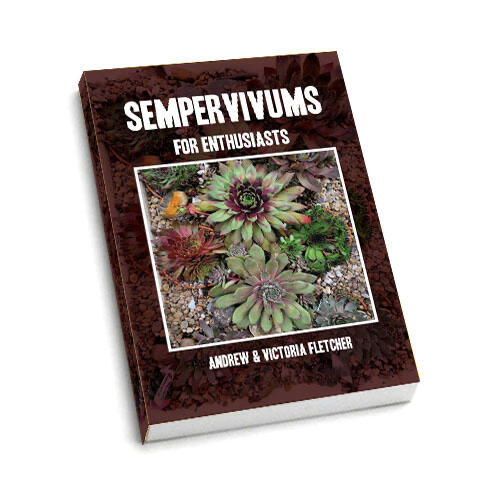 If you have ever thought you were 'no good at growing things', Sempervivums may be the perfect plant for you. You can almost forget about them and they'll still survive.Learn about their origins and how to use them as herbal remedies. We'll talk about identification and show you some of the varieties and cultivars in our own collection.We are going to tell you what we've learned about caring for Sempervivums. Be informed on what pests and diseases your Sempervivums may encounter. Learn about basic propagation and how to display your Sempervivums. Finally, enjoy the beautiful colour photographs throughout the book. Use them as an aid to identification or just for ideas to build your own collection.Sempervivums for Enthusiasts isn't overwhelming, like some other plant guides, with many complicated Latin names and descriptions. It is an informal but informative book with colour photographs and easy to read information.Sempervivums for Enthusiasts is available to order now at the link below.
⭐️⭐️⭐️⭐️⭐️
Excellent book, perfect for a novice like me
The visual guide is brilliant as I'm more of a 'does it look right' person so can relate better to what it looks like rather than books that give you pages of descriptions for one thing. This would be a great gift for anyone, young and old as the writing style suits any age. Perfect for getting the children interested in gardening. For the price it's an absolute bargain. Get one, you won't regret it.
Jackie B.
⭐️⭐️⭐️⭐️⭐️
Easy to read and very informative
I received this book as a present and what a joy it is. I was really impressed with the photos and descriptions of each of the wide variety of Semps. It's inspired me to buy more knowing I can relate back to the book for advice and information. Brilliant.
Jill P.
⭐️⭐️⭐️⭐️⭐️
Beautiful photos
This is such a great book. Written with enthusiasm and knowledge, it will help you to enjoy semps and get the most out of them. The beautiful colour photographs are useful and inspiring, and I shall definitely be adding to my small collection this year.
Hannah P.
Have you already got your copy of Sempervivums for Enthusiasts? Let us know what you think!
Order Sempervivums for Enthusiasts
A limited number of paperbacks are available to order directly from this site.The book is available at £14.99 plus postage to UK, Europe or USA. Use the appropriate 'Pay Now' button belowYou'll be taken to a secure page operated by our trusted payments partner Stripe.com and returned to this site after your payment.If in any doubt, just Contact Me.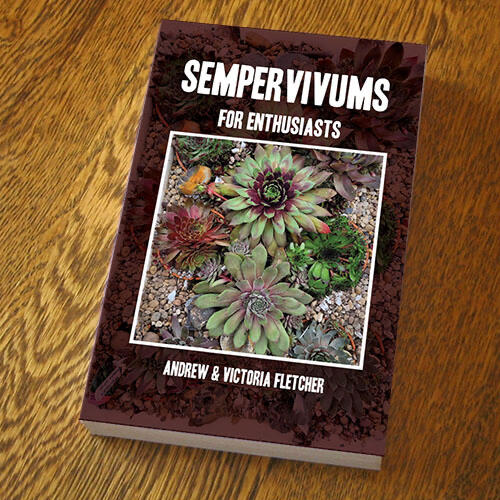 🇬🇧 Book shipped to UK 🇬🇧
£14.99 + £2.70 2nd Class Royal Mail
🇪🇺 Book shipped to Europe 🇪🇺
£14.99 + £6.25 standard postage
🇺🇸 Book shipped to USA 🇺🇸
£14.99 + £11.10 standard postage
Thank you for your order!You should now receive an email confirmation.Your copy will be posted in the next few days.If you have any queries then please Contact Me.
I have always been artistic, with a love for reading and a passion for writing. However, family commitments and lack of time kept me too busy to pursue that passion. I spent most of my career working in Finance, but a change in circumstance this year, provided me with an opportunity and the time to write.I love being outdoors and all things flora and fauna. I decided that my first project should be about growing Sempervivums. My partner Andy takes such brilliant photographs that it seemed only right to collaborate with him. The vision for our book was to fill it with beautiful colour photographs and informal, but informative information.We both love learning about different plants and how to grow them. We used to own a nursery and garden centre and have always loved succulent and alpine plants, especially Sempervivums, which really caught our interest. In fact, they have become more of an obsession in the last few years. We grew from being beginners, to Sempervivum enthusiasts in a very short space of time.Writing the Sempervivum book has been an exciting start to my new career as an author. Even more exciting for me though, is my debut novel, due out in the new year.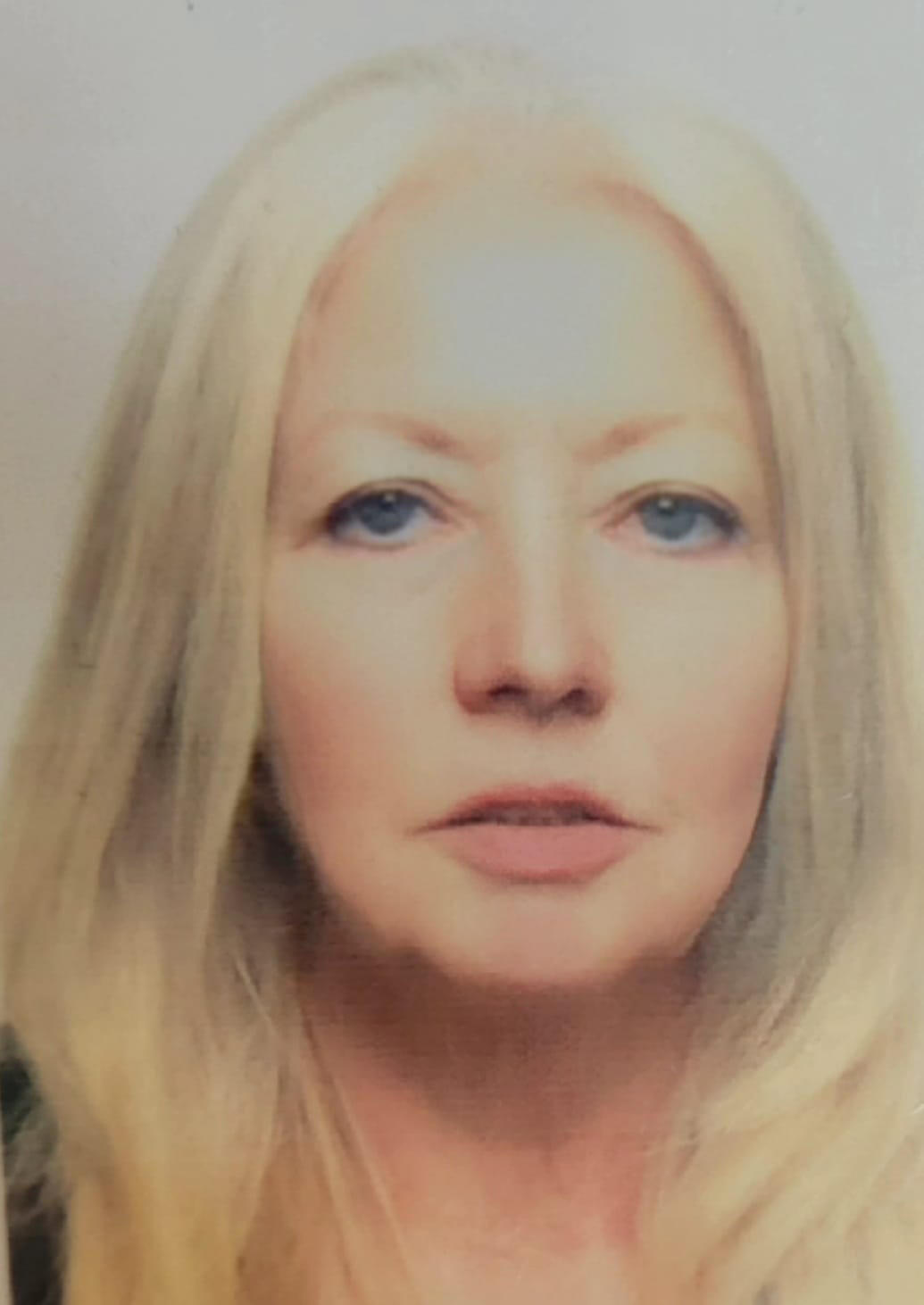 Sempervivums for Enthusiasts – out now
22/11/2021
My first book Sempervivums for Enthusiasts is available to order now.For anyone interested in growing Sempervivums, it's an informal but informative book with great colour photographs and easy to read information.The book can be shipped to the UK, Europe and the USA.Find out more or go straight to ordering using the buttons below.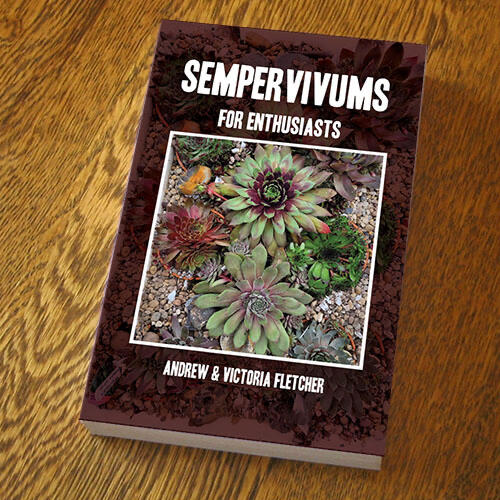 Game On - debut novel coming soon
12/11/2021
I'm delighted to announce my debut novel, Game On, which will be available in early 2023.The Ladies Darts Team meet once a week. Eight women, who put their worries aside, laugh, cry and share secrets. Each one fighting her own private battle:– Jane's husband retired early and she can't wait to join him
– Frida, loving life, playing hard, whatever the cost
– Marie is lonely, she lives for Wednesdays
– Annie loves her children, but sometimes her anxiety overwhelms her
– Karen, a keep-fit fanatic with a secret
– Lizzie lives with mum and dad and seems to have no cares
– Star, beautiful and talented, the best player on the team
– Mel is about to learn that friends are not just for Wednesdays…Excerpt
As she climbed into his car, she noticed how his hands were gripping the steering wheel and sensed right away that she was in trouble."Where the hell have you been 'til this time?" he snarled at her."I couldn't help it," she said. The games took longer than normal and I had to wait for everyone else so I could have a lift back in the minibus." She thought he must be able to hear her heart thudding in her chest, her mouth dry, her hands and knees trembling."Why are you giving me lip? I asked where you'd been, not for your friggin' life story!"
As he grabbed a handful of her hair, tugging her head back against the headrest, she let out a cry."I've been to the Rose & Crown at Kinworth, you're hurting me!" she whispered."I will hurt you, you sneaky little bitch!" With that he pushed her head forward as hard as he could.Her face smashed against the dashboard, eyes closed; a thousand lights exploding inside her head. White hot pain shooting through her nose and mouth, as she rebounded she thought her neck would break. On her tongue, the familiar taste of blood.
To be kept up to date with publication news, sign up to email updates using the box on the homepageFor anything else, send me a message using the form below.
Key detailsThis website privacy policy describes how V J Fletcher protects and makes use of the information you give the company when you use this website.If you are asked to provide information when using this website, it will only be used in the ways described in this privacy policy. This policy is updated from time to time. The latest version is published on this page.This website privacy policy was updated on 12 November 2021. If you have any questions about this policy, please email vjfletcherauthor@gmail.com or write to: V J Fletcher, 20 Frostings Close, Grenoside, Sheffield S35 8NT.IntroductionWe gather and use certain information about individuals in order to provide products and services and to enable certain functions on this website.We also collect information to better understand how visitors use this website and to present timely, relevant information to them.What data we gatherWe may collect the following information:
– Name
– Email address
– Postal address (if you place an order)How we use this dataCollecting this data helps us understand what you are looking from the company, enabling us to deliver improved products and services.Specifically, we may use data:
– To contact you in response to a specific enquiry
– To send you promotional emails about products, services, offers and other things we think might be relevant to you
– To send you promotional mailings or to call you about products, services, offers and other things we think might be relevant to youYou may unsubscribe from email communication at any time by clicking the Unsubscribe link in any email message from us.Payment dataOur payment processing is provided by a secure third-party payment services provide, Stripe.com. At no time is any private payment data such as credit card numbers, expiry dates or CVC numbers given to, visible to, or stored by Author Name.Cookies and how we use themWhat is a cookie?A cookie is a small file placed on your computer's hard drive. It enables our website to identify your computer as you view different pages on our website.Cookies allow websites and applications to store your preferences in order to present content, options or functions that are specific to you. They also enable us to see information like how many people use the website and what pages they tend to visit.How we use cookiesWe use third party cookies from our payment processing provider Stripe.com to:
– enable secure credit card transactions
– identify the type of device being used to access the siteControlling cookiesYou can use your web browser's cookie settings to determine how our website uses cookies. If you do not want our website to store cookies on your computer or device, you should set your web browser to refuse cookies.However, please note that doing this may affect how our website functions. Some pages and services may become unavailable to you.
Unless you have changed your browser to refuse cookies, our website will issue cookies when you visit it.To learn more about cookies and how they are used, visit All About Cookies.Controlling information about youWe will never lease, distribute or sell your personal information to third parties unless we have your permission or the law requires us to.
Any personal information we hold about you is stored and processed under our data protection policy, in line with the applicable regulations.SecurityWe will always hold your information securely.To prevent unauthorised disclosure or access to your information, we have implemented strong physical and electronic security safeguards.
We also follow stringent procedures to ensure we work with all personal data in line with the applicable regulations.Links from our siteOur website may from time to time contain links to other websites.
Please note that we have no control of websites outside our domain. If you provide information to a website to which we link, we are not responsible for its protection and privacy.Always be wary when submitting data to websites. Read the site's data protection and privacy policies fully.
IntroductionWelcome to our website. If you continue to browse and use this website, you are agreeing to comply with and be bound by the following terms and conditions of use, which together with our privacy policy govern V J Flether's relationship with you in relation to this website.The term 'V J Fletcher' or 'us' or 'we' refers to the owner of the website whose address is: V J Fletcher, 20 Frostings Close, Grenoside, Sheffield S35 8NT. The term 'you' refers to the user or viewer of our website.The Contract between usWhen you place an order, including a pre-order, the order is only accepted once full payment of is received. Once payment has been received you will receive an order confirmation. Our acceptance of your order brings into existence a legally binding contract between us.In the unlikely event that the goods are no longer available, or that we have made a pricing mistake, we will email you to advise you of the options.PriceThe price payable for your order is set out on the website along with postage details.AvailabilityIf we cannot supply a product ordered, you will receive an email and have the option to wait until we can get the product or to cancel the order with a full refund.ReturnsThere may an occasion where you may need to return a product. Products can be returned within 7 days of receipt to: V J Fletcher, 20 Frostings Close, Grenoside, Sheffield S35 8NT. Please drop us an email at vjfletcherauthor@gmail.com telling us why you are returning the product so we can sort the problem out. You will receive a refund if there is a problem with the product or an error on our part.Cancellation by yourselvesIf your order has not been despatched in the stated timescales, you are free to cancel your order by email at vjfletcherauthor@gmail.com Your statutory rights are not affected.Cancellation by usWe reserve the right to cancel the order if we have insufficient stock to deliver the products you have ordered. If this happens, we will contact you to advise when the product will be back in stock.DeliveryExcluding pre-orders, your order will be dispatched within 2-3 working days of being placed. If there is a delay, we will contact you. Please order with enough lead-time as we cannot be liable for any loss caused to you by late delivery. UK orders will be sent by Royal Mail 1st Class post. International orders will be sent by standard international postage.Pre-orders will be dispatched within the timeframe specified on the pre-order page.The order will be delivered to the delivery address provided. It is your responsibility to provide us with accurate delivery information. If Royal Mail or other delivery partner has attempted delivery whilst you were out, a note should have been left advising you of your parcel.Please note that we cannot be held responsible for any damage caused through postage such as climatic conditions affecting the product. We make sure that all items are in perfect condition before they are sent to you. If your parcel does arrive in a poor condition, please contact us. We shall have no liability to pay any money to you by way of compensation other than to refund to you the amount paid by you for the products in question.Payment dataOur payment processing is provided by a secure third-party payment services provide, Stripe.com. At no time is any private payment data such as credit card numbers, expiry dates or CVC numbers given to, visible to, or stored by V J Fletcher.See the Privacy Policy for further information on data management.WebsiteReproduction is prohibited other than in accordance with the copyright notice, which forms part of these terms and conditions. Unauthorised use or abuse of this website may give rise to a claim for damages and/or be a criminal offence. Your use of this website and any dispute arising out of such use of the website is subject to the laws of England, Northern Ireland, Scotland and Wales.Governing lawThe contract between us shall be governed by and interpreted in accordance with English law and the English courts shall have jurisdiction to resolve any disputes between us.Website disclaimerThe information contained in this website is for general information purposes only. The information is provided by V J Fletcher and while we endeavour to keep the information up to date and correct, we make no representations or warranties of any kind, express or implied, about the completeness, accuracy, reliability, suitability or availability with respect to the website or the information, products, services, or related graphics contained on the website for any purpose. Any reliance you place on such information is therefore strictly at your own risk.In no event will we be liable for any loss or damage including without limitation, indirect or consequential loss or damage, or any loss or damage whatsoever arising from loss of data or profits arising out of, or in connection with, the use of this website.Every effort is made to keep the website up and running smoothly. However, V J Fletcher takes no responsibility for, and will not be liable for, the website being temporarily unavailable due to technical issues beyond our control. If you are having problems please get in touch with us.Copyright noticeThis website and its content is the copyright © V J Fletcher 2021.Any redistribution or reproduction of part or all the contents in any form is prohibited without our permission. You may not, except with our express written permission, distribute or commercially exploit the content. Nor may you transmit it or store it in any other website or other form of electronic retrieval system.